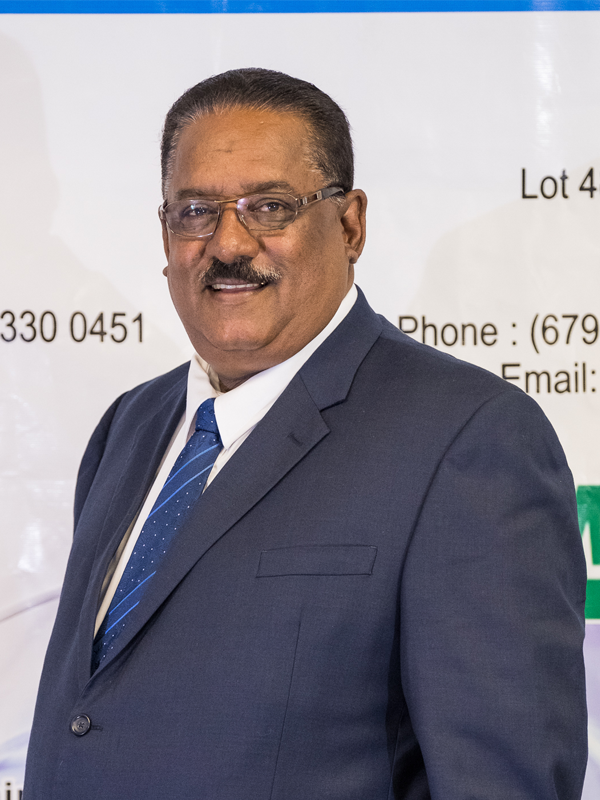 Managing Director : Mr. Shiv Nand Sharma
View Mr. Sharma's Profile
Mr. Sharma started Mechanical Services Limited in the year 1970. He has over 47 years of expertise in the field of Air Conditioning, Refrigeration and Building Automation and Controls. Together with the knowledge of Sheet Metal and Stainless Steel Fabrication he has build a strong foundation for the company. Mechanical Services Limited is Fiji's leading name in the HVAC industry and the full Credit goes to Mr. Sharma and his handpicked team.
Mr. Sharma is also a philanthropist; he goes out of his way to help his staff and the community. He is a passionate Golfer, and very ambitious and goal oriented.
Mr. Sharma has been involved in developing some of Fiji's highest profile sites including; The Australian Embassy, Sofitel Resort and Spa, USA Embassy, Fijian Hotel, The Intercontinental Resort and Spa, Airports Fiji Limited Nadi, MHCC, Tokoriki Hotel, just to name a few. Over the years Mr. Sharma has built strong relationships with his clients through superior service and providing quality products, which has made Mechanical Services Limited the top Air Conditioning Company in Fiji.
Mr. Sharma continues to advance Mechanical Services Limited by taking great care of his employees and customers, through research, by implementing procedures and by bringing new technology into the system for faster and efficient service delivery.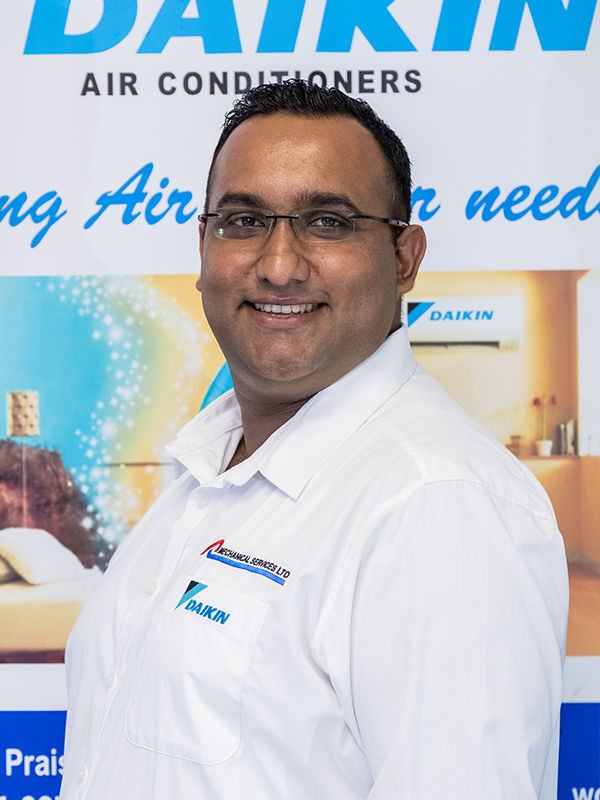 General Manager and Projects Manager : Shonal Sharma
Shonal has been with Mechanical Services Limited for more than 10 years. The HVAC industry has been a major part of his life since birth. Since his childhood, his keen interest in the field led him to acquire his university qualifications, and with his capabilities in acquiring new projects and guidance from Mr. Sharma has made him achieve his current position in the company.
Shonal's personality and his modern day approach to business management has seen the company introduce new equipment and process to make service delivery efficient. He always has time to listen to his colleagues and come up with solutions to best suit the company's interests.
Shonal's charming personality, his calm nature and his passion in remaining the best in his field is a benchmark for many upcoming entrepreneurs. Mechanical Services Limited is honoured to have Shonal as their General Manager.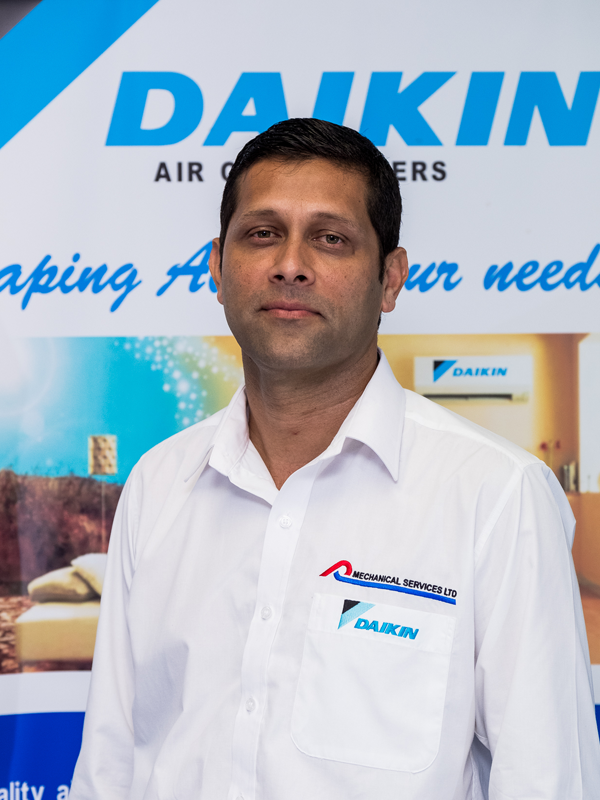 Operations Manager : Raj Kumar
Raj has been a part of the Mechanical Services Limited's family since 1996. He joined the company as an assistant technician. He migrated to Australia in 2004 where he worked for Daikin Australia before re-joining Mechanical Services Limited again in 2017 as the Operations Manager.
Raj's qualifications together with his 12 years of HVAC experience with Daikin Australia, builds on to Mechanical Services Limited's capabilities, where we invest in the best professionals to look after our customers. Raj has worked with a variety of systems including VRV systems, commercial/industrial, and domestic Daikin air conditioners.
With his charismatic personality and his drive for perfection, Mechanical services Limited is proud to have Raj on their team.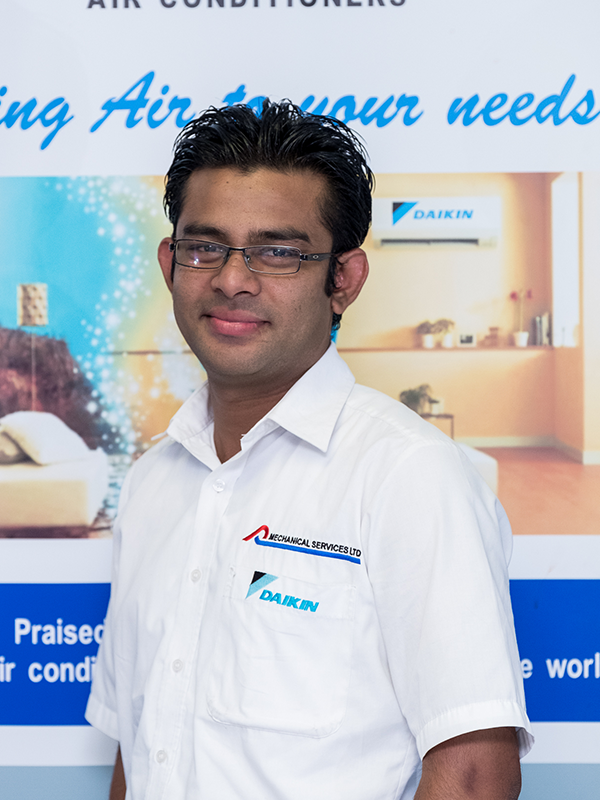 Chief Estimator and Project Co-ordinator : Shamon Francis
Shamon is our Chief Estimator and Project Co-ordinator. In this capacity, he oversees the review of Tender drawings, Shop drawings, As Built Manuals project estimates and lead the Project team.
Shamon has been with Mechanical Services Limited since 2011 and has over 6 years of industry experience. As an experienced Project Coordinator, Mr. Francis has the knowledge and skill set to properly estimate drawings, negotiate, and oversee all installations required in large-scale HVAC construction projects.
Shamon holds his qualifications in Diploma in Civil Engineering, Advanced Diploma in Civil Engineering and Bachelor of Engineering. His ability to deliver high quality work in short timelines has earned him great respect among his colleagues and management.
Shamon is always ready to take challenges and tactfully guide his team members to get the best results.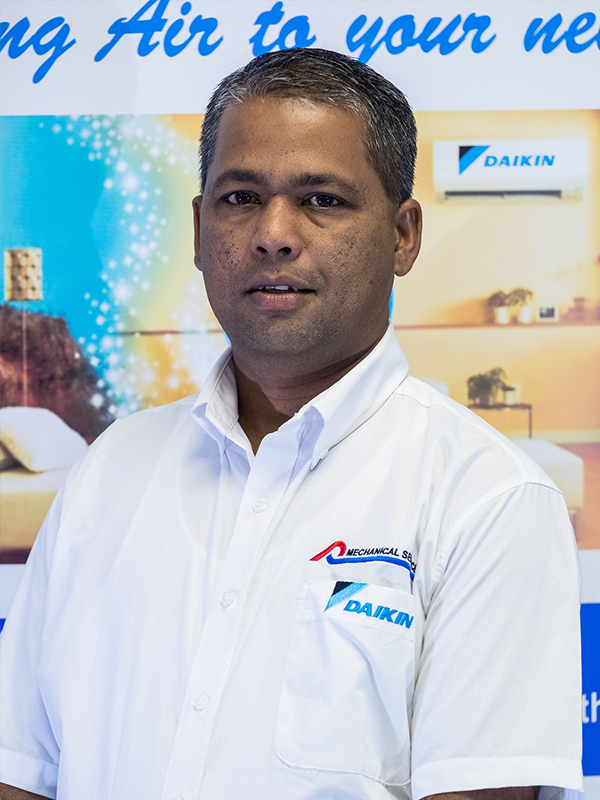 Logistics and Manager Properties : Ritesh Prasad
Mr. Prasad joined Mechanical Services Limited in the year 1989. Yes 1989! He has been with the company ever since. The longevity of most staff at Mechanical Services Limited is a reflection of how well they are looked after by the company. Mr. Prasad oversees the purchasing of materials and machinery for Mechanical Services Limited's branches in Fiji. His continually tries to enrich the company through research and consultation into new technology and machinery which in return gives more value for money.
As one of the longest serving member of the Mechanical Services Family, Mr. Prasad is a mentor to most of the employees where he passes on his expertise and experience to guide the new recruits to success as individuals and as team members.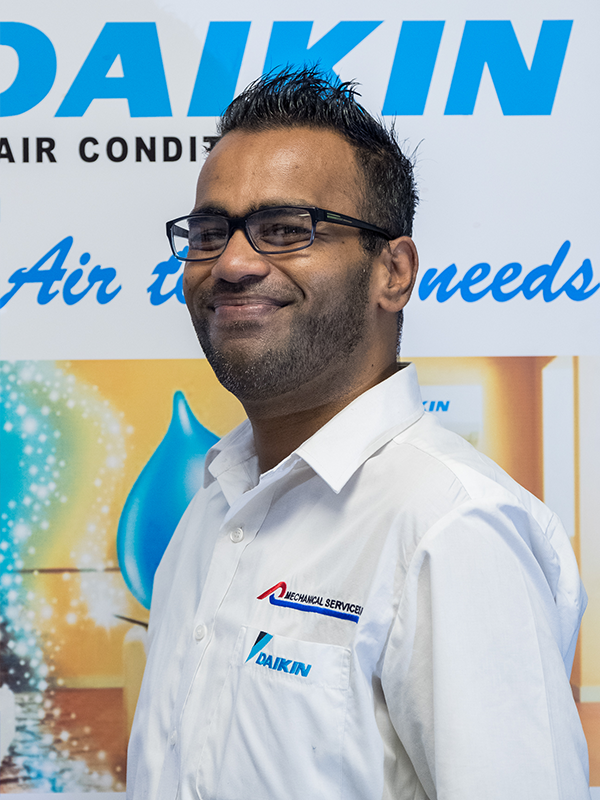 Corporate Sales and HVAC Service Manager : Shalendra Pillay
Shalendra Pillay [Shalen] has over 17 years of experience in HVAC Sales, Service, projects and management of corporate clients. Shalen has served in almost every role in Mechanical Services Limited from commercial, residential and industrial HVAC Engineering during his journey to his current position as Corporate Sales/HVAC Service Manager.
Shalen has attended seminars at Osaka, Japan, the Head Office of the world's Leading Air-conditioners, DAIKIN to further his technical and marketing skills.
Focused on providing stakeholders with best services and products, Shalen is a peoples person and keeps his customers interests as his top priority. Mechanical Services Limited is fortunate to have Shalen on the Team with his vision of success and culture which promises a great future for the company.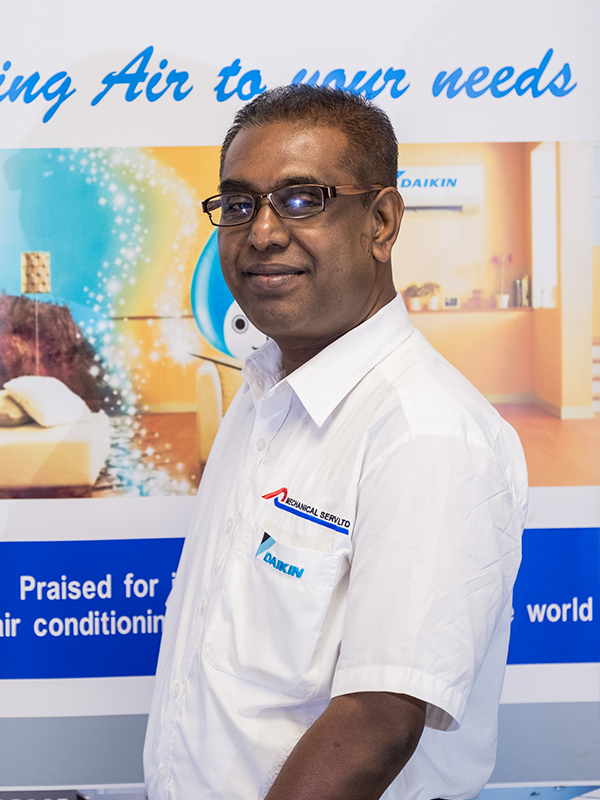 Manager Sheet Metal and Stainless Steel : Dennis Lal
Dennis is a seasoned Sheet Metal and Stainless Steel Estimator and project manager with 25 years of achievement at Mechanical Services Limited. Dennis is uniquely adept at estimating, bidding on, and securing profitable fabrication projects. Dennis works in a very competitive and challenging market. He has in-depth knowledge of the industry and his customers which makes him a valuable asset to the company.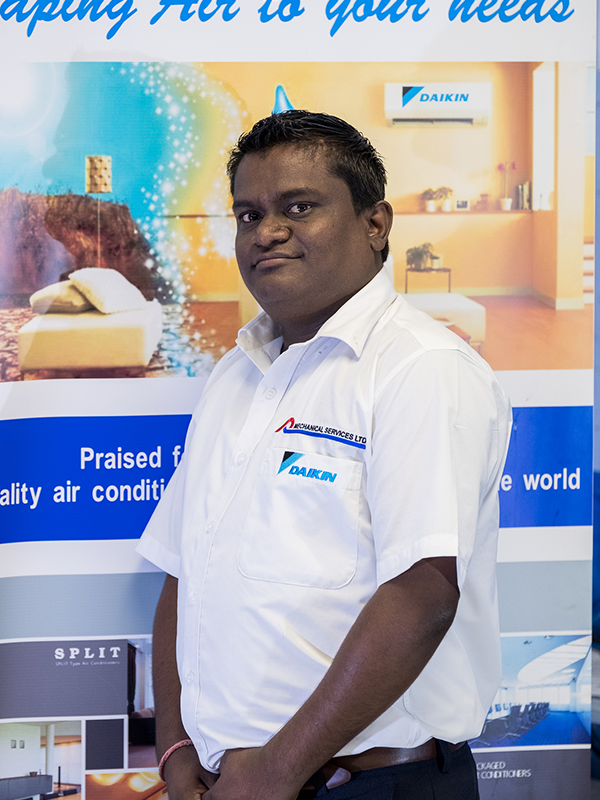 Human Resource Manager : Avikash Singh
Avikash joined the Mechanical Services team in September 2016. He brings to us a wealth of knowledge in Human Resource Management, Industrial Relation and Management. Avikash received his Executive Masters Degree majoring in Human Resource from the Indian Business School of Advance Management of University of Karnataka, India. He pursued his studies at Fiji National University and has successfully completed Diploma level and Bachelor in Commerce majoring in Human Resource Management, Industrial Relations & Management.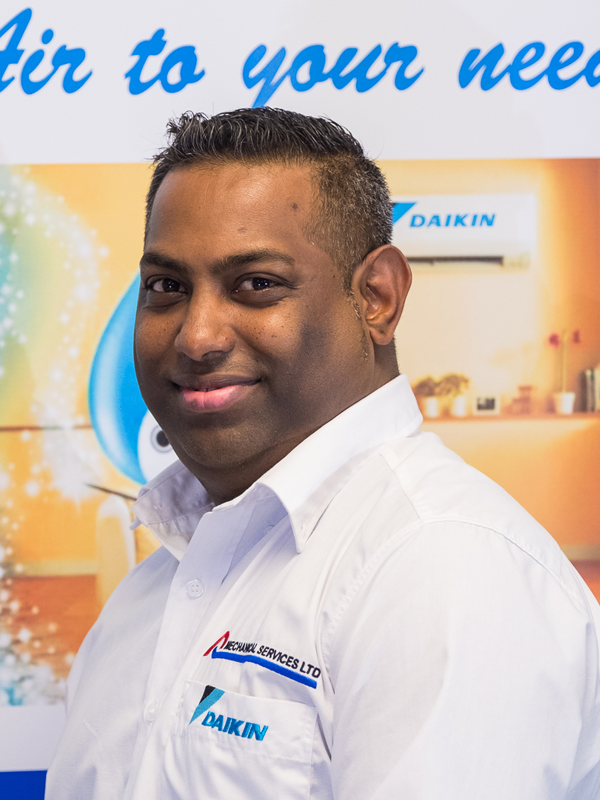 Group Accountant : Abhinesh Sharma
Abhinesh brings with him a variety of skills to Mechanical Services Limited where he is able to lead and develop the accounts department and at the same time keep the company on track on its mission with his timely reporting.
Abhinesh obtained his degree in Accounting and Financial management and Information systems from the University of the South Pacific. With his experience from working in the private sectors of Fiji, Tonga and Vanuatu, it makes him proficient to successfully implement and manage new accounting systems and procedures.
He has a proactive management style with highly developed communication skills.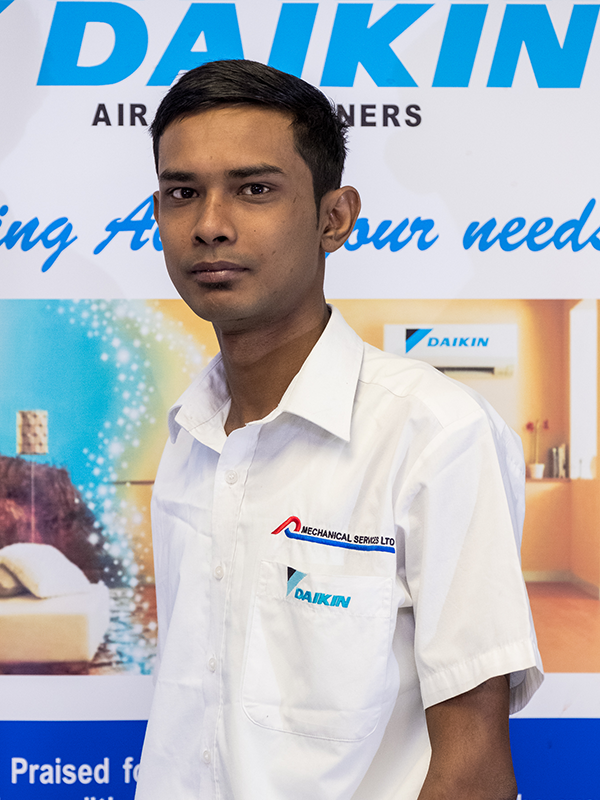 Senior Estimator : Prashneel Kumar
Prashneel started working at Mechanical Services Limited in 2013, as an Estimator/ Draftsman in HVAC department. He worked his way to become a Senior Estimator through dedication, not to mention the late hours at the office, and his ability to meet deadlines. Prashneel has mastery in Designing, Drafting, Estimating, Project Coordination and Project Management. Prashneel has wide range of skills has earned him a lot respect among his colleagues making him a valuable member of the Mechanical Services Team.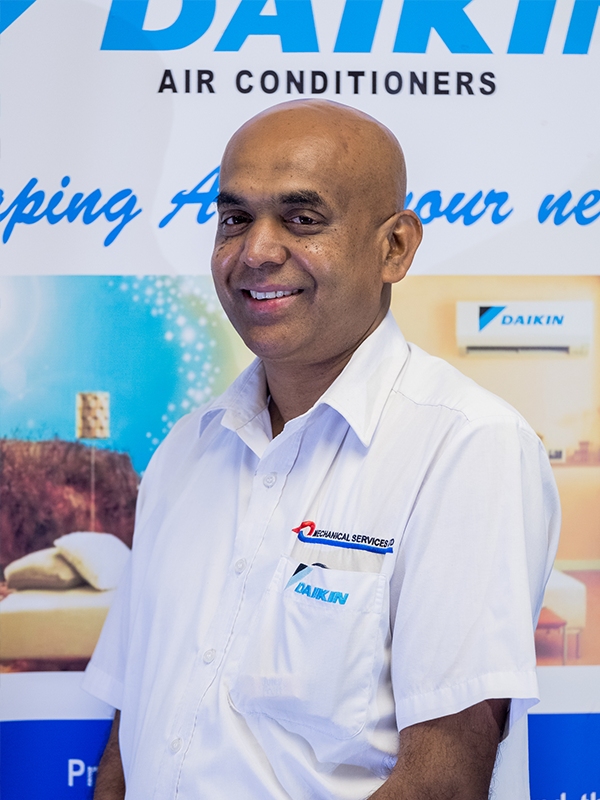 Marketing Executive : Rakesh Chand
Rakesh has been a huge asset to the Mechanical Services team, not only through his role but his respect towards the company. He starts his day by praying to the almighty for a safe working environment for all his colleagues. Rakesh has served Mechanical Services limited for over 12 years, showing his dedication and loyalty to the company and making sure that his customers are always met with exceptional service whenever it's needed.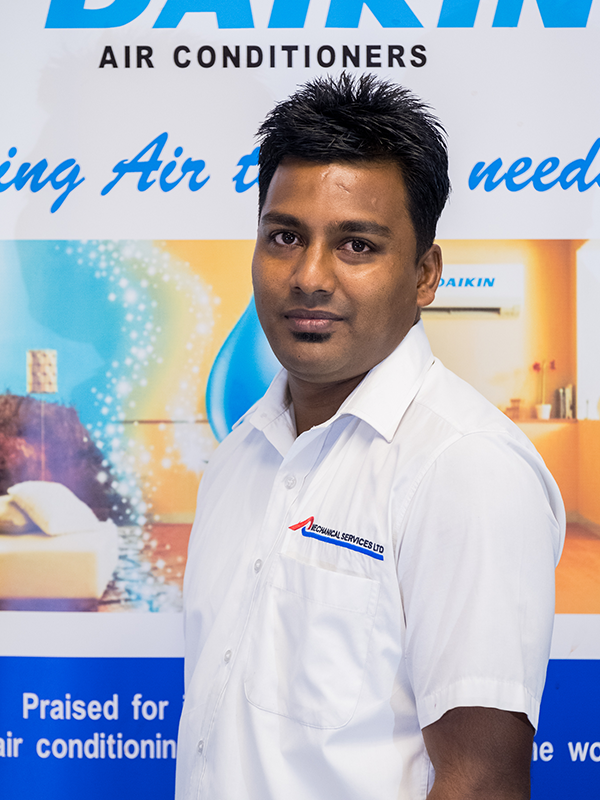 Sales Executive : Ronil Goundon
Ronil joined Mechanical Services Limited in 2003. Ronil provides solutions for those in need of a new Air Conditioning System, whether it is for Residential or Commercial requirement. Ronil has more than 14 years experience in the HVAC business. He joined Mechanical Services Limited as an Assistant Technician and moved up the ladder to become senior HAVC Technician and currently he brings in new business to the company as a Senior Sales Executive.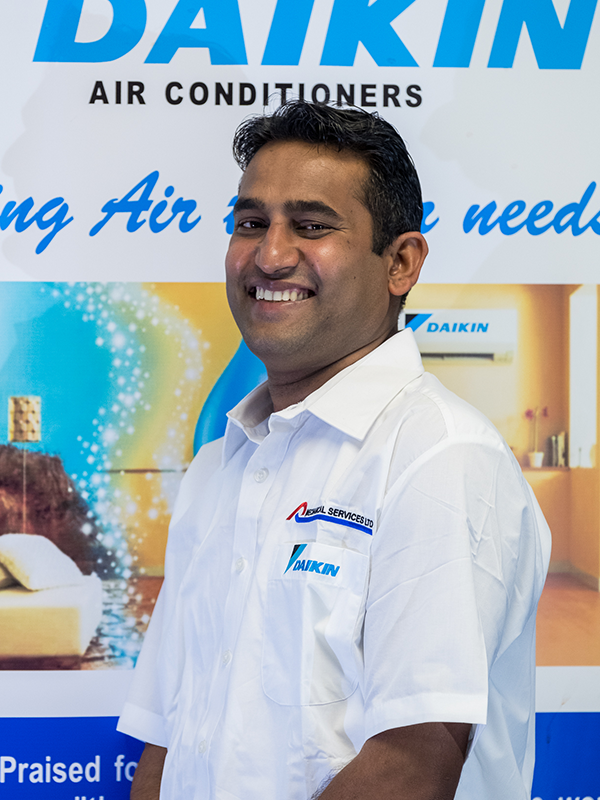 Service Supervisor - Central : Asheel Sharma
Asheel has over 18 years of industry experience. He was first introduced to the HVAC industry in 1999 and worked in various positions including Technician and Senior Technician positions, until ultimately progressing to HVAC Supervisor. Though his interest in the HVAC profession was from his early days but his professional development began by graduating in Refrigeration and Air Conditioning from the then Fiji Technical Institute (FNU) and started working at Mechanical Services Limited in 2002.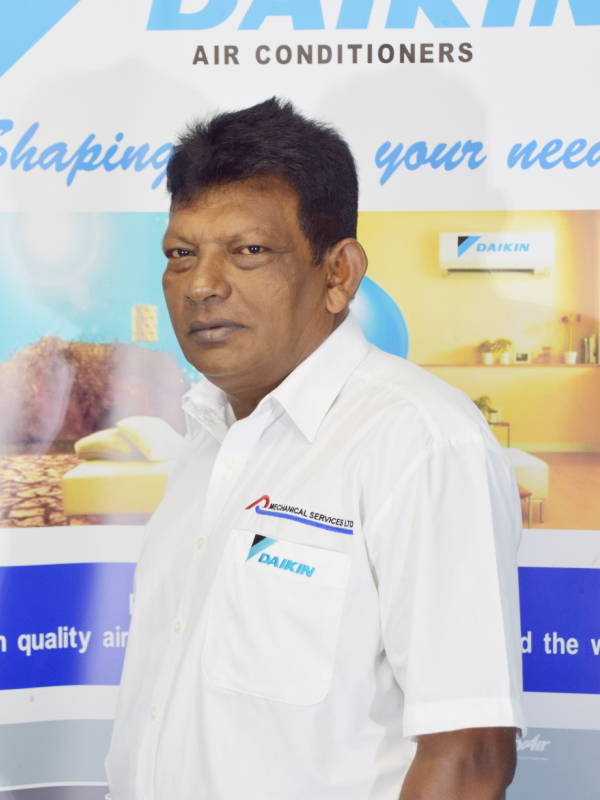 Regional Manager West : Yati Prasad
Mr. Yati Prasad joined Mechanical Services Limited in the year 1986.. Mr. Prasad oversees the Western operations which also includes outer islands. He has played an important role in delivering the multi-million dollar projects carried out by Mechanical Services Limited in the Western Division, such as Sofitel Resort & Spa Fiji, Momi Bay project, FNU Namaka, Intercontinental Fiji Golf Resort & Spa and recently the modernization of Nadi International Airport.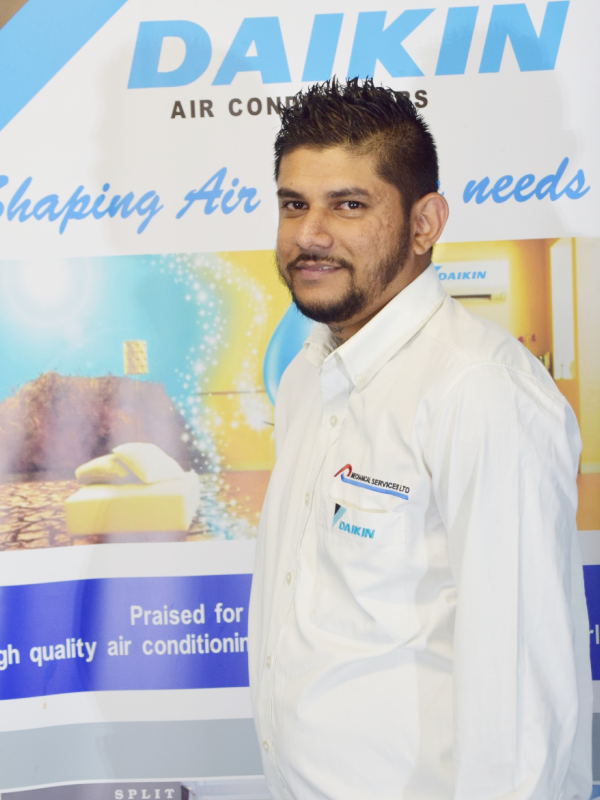 Draftsman / Estimator : Anel Datt
Anel has over six years' experience in various aspects of engineering, such as Auto CAD, ProSteel 3D Modeling, Architectural Drawing, Structural Drawing, Construction Drawing, Mechanical Drawing and General Estimation.He has been actively involved in large scale projects such as the modernization of the Nadi International Airport.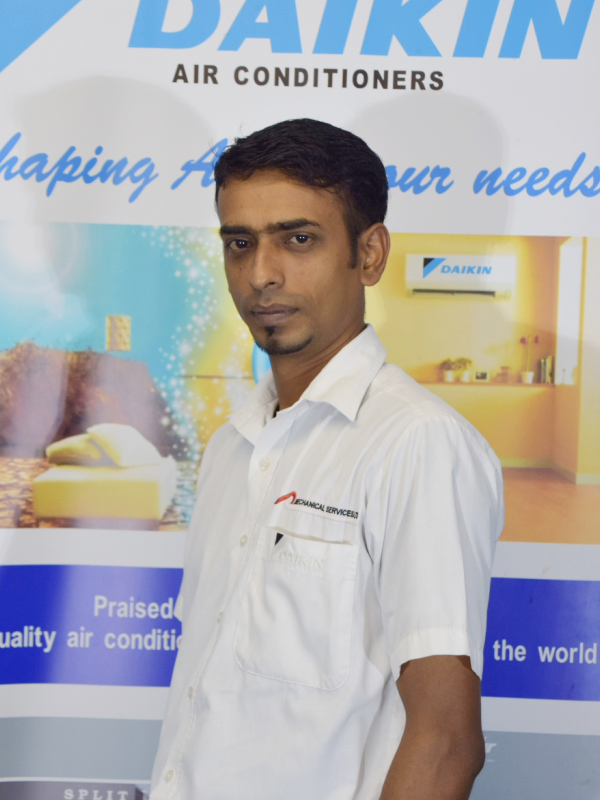 BMS Supervisor / West : Rabinesh Prasad
Rabinesh has been with Mechanical Services Limited for over 18 years, not only in Suva but he has relived project management positions in all our branches. Rabinesh is highly experienced in handling electronic and mechanical systems effectively; he is dexterous in handling tasks effectively in extreme weather conditions Exceptional knowledge of providing technical assistant with the design and implementation of HVAC systems, making Rabinesh one of Mechanical Services Limited most valuable employees.